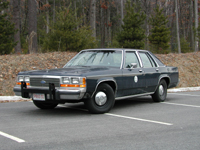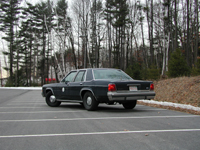 This 1990 Crown Victoria started life as a municipal vehicle in the town of Harwich, Massachusetts (hence the name "Harwich"). Although it was ordered as a standard line car, it was never put into active service as a cruiser. I believe it was an "administrator's" car, or a car that a town clerk or other town official uses. My clues to this were the absence of police equipment as well as a generic "Town of Harwich" seal on the door.

For those who don't know what a "line car" is, it is police geek speak for a car that has all the police markings on it, with lightbar, sirens, radios, and was used by anyone basically lower then a chief. Basically your average, stereotypical police car.

What this meant for me was that the car had vinyl seats, rubberized flooring, heavy duty suspension, oil coolers, tranny coolers, power steering coolers, and lots of mileage.

I purchased this car in the fall of 2001 for a grand total of 300 dollars. It had about 120,000 miles on it when I bought it. Originally it was purchased as a secondary car so I could garage my Mustang in the winter. It quickly turned into more then just a winter car, and even became more fun to drive then the Mustang. With the heavy duty suspension, reasonably good ground clearance, and high sidewall tires, it made for good curb jumping and light offroading. It even survived a ditch while driving on dirt trails in Moosehead, Maine.

After almost two and a half years and 97,000 miles I decided to sell her and trade up to a newer model. While the newer cars have been more aesthetically pleasing, nothing can replace the fun that this car was. I suspect someday I'll have another boxbody Crown Victoria like this one.