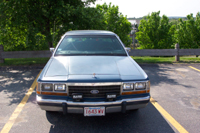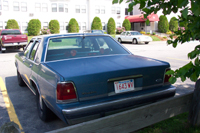 Tony bought this car shortly after he blew up his red '88 Crown Vic. Considering it's age and that it was a fleet vehicle, it was in incredibly great condition. The body had absolutely no dents, dings, or rust. The paint was a little faded, but that was the worst cosmetically.

After I sold my '90 Crown, we put the pushbars onto this car. Tony even had the suspension redone, it rode as high as an Explorer. I also replaced the starter in this car 6 times in a matter of weeks. Eventually I had the tools for the job in my glovebox just in case.

Too bad you sold it Tony.