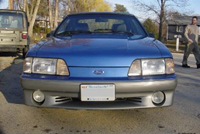 This car was a year (possibly 25 years) in the making. I finally had a job that paid reasonably well, and was quickly getting over my fear of auto loans. I had been scanning the WantAd, a New England based classifieds paper, for over a year trying to find just the right car. I knew I wanted a manual transmission, and I was leaning toward rear wheel drive and a V8.

One thing I quickly learned about looking at sports cars, and Mustangs in particular, rarely are they in either good condition, or still in stock form. During the year I spent regularly looking at these cars, I found only two that were in stock form and in good condition. The first one was a 1986 GT with 25,000 original miles on it. Unfortunately I called about it a day or two too late, it was sold.

The second was this one here. I saw it the first day it was in the paper. It was being sold by the original owner with a low 55,000 miles on it. And as I'm hoping you can tell from the photos, it was garaged it's entire life and showed no signs of abuse. After taking a look at it I decided to buy, and a week later I had it.

And the first day it was nearly totalled.

It was a beautiful, sunny April Saturday morning. I drove the Mustang from Worcester to my parents house to show them. I had told my mother I was getting a new car, but hadn't told my father, I wanted it to be a surprise. Both my parents were home and my father was, luckily, still sleeping. I parked the Mustang in the driveway, and my mother came running out of the house to take a look. Shortly thereafter a few neighbors came by and looked it over as well.

Eventually the neighbors left and it was time to go wake dad. I woke him up and told him to get outside. After a few minutes, he joined my mother and myself outside by the car. Without speaking a word, he takes several minutes to circle the car and look it over. After inspecting the car, he walks over to me, and without a word and an outstretched hand, demands the keys.

Of course I can't say no, so my father, my mother, and myself all cram into the Mustang to go for a ride.

At the time it had probably been about 15 years since my father had driven a 5-speed with any regularity. He got the car started and rolled it out of the driveway. When he got into the street, he put it in first and started to let the clutch out. And stalled it. To date everyone who has driven the Mustang has stalled it at least once. He restarted the car, and then proceeded to dump the clutch and slide the car halfway down the street. All I remember from that moment is looking out the passenger side window and seeing the telephone pole come straight at me. Fortunately the car was back under control before dad wrapped it around the aforementioned telephone pole.